The Guardian Angels: Angelina Jolie and the Global Summit to End Sexual Violence in Conflict
The Guardian Angels: Angelina Jolie and the Global Summit to End Sexual Violence in Conflict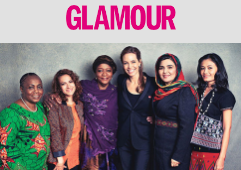 For years, rape has been accepted as a consequence of war. But if Angelina Jolie and a group of ferociously passionate leaders from all over the world have their way, that ends now.
I first met Angelina Jolie through the diaries she wrote after her visits to refugee camps. I read them online, and even then—long before we became friends and watched our toddlers jumping on hotel beds together—I was fascinated by Angelina's attention to detail and her will to understand infinitely complex situations. She has traveled to more than 40 countries with the United Nations, spent untold hours reading about international justice, and come back with the horrific stories of what women undergo when the men in their countries wage war. "Everywhere I went," Angelina told me, "rape was the silent killer. But it became quickly clear to me that these women were not just the collateral damage of war. Rape was a strategic, organized scheme to destroy entire communities." Indeed, violating and torturing women, girls, toddlers, or the elderly is used as a free and efficient weapon of mass destruction—in fact, in many conflict-ridden countries, it is more dangerous to be a woman than a soldier. One study found that, in the Democratic Republic of the Congo, for example, 48 women are raped every hour, and in still other countries, like Colombia, the crimes go undocumented, the women uncounted.
So today I am incredibly moved but not the least bit surprised to see Angelina prompting the world to recognize the systematic destruction of women. This past June, in her role as Special Envoy of the United Nations High Commissioner for Refugees, she joined British Foreign Secretary William Hague in London to cochair the Global Summit to End Sexual Violence in Conflict, a gathering of thousands of people from 123 countries and more than 70 foreign ministers working to crack the fortress of silence and denial surrounding rape in war zones.
"Thanks to women like Zainab Bangura and Angelina Jolie, we're forcing the world to stop looking away—and to recognize that sexual violence is a vile crime against humanity, not an inevitable by-product of war."
—John Kerry, United States Secretary of StateAngelina knew many of the women there already from her work in the field. There were mavericks like Julienne Lusenge, one of the first women to publicly denounce the epidemic of sexual violence in the Democratic Republic of the Congo. (She began her campaign of truth by walking into the local radio station and seizing the microphone.) Journalist Jineth Bedoya, who was kidnapped, tortured, and raped while investigating arms trafficking in Colombia but who continues to report on the political violence there. ("I felt like a statistic. I am doing this so that those who come after me can have a face," she says.) Zainab Bangura, who began as a grassroots organizer in Sierra Leone and who now, as a representative to the United Nations, campaigns to classify rape as a war crime. Suraya Pakzad, who, under the Taliban regime in her native Afghanistan, dared to educate girls illegally in her house and founded the Voice of Women Organization there. And Whaku Shee, who is working with the Women's League of Burma to help prevent the military from raping Burmese ethnic minorities. "We care for each other—and for each other's children," says Angelina. "It is a profound source of joy and inspiration." The feeling of kinship and solidarity is mutual: "I have never seen anybody so committed," Zainab says of Angelina. "I have been with her at the United Nations. I have walked with her in the Congo. She understands the issues very well, but more important, she listens."
Together, these six matchsticks of awareness—along with so many others like them—are building a bonfire of international indignation. At the summit more than 200 experts wrote an international protocol, the first of its kind, designed to help bring perpetrators to justice and rehabilitate victims, who are often rejected by their communities after an assault. The document was written by women alongside men—a powerful fact because, as Angelina says, "this is not a woman problem. It's a crime against humanity."
It's this understanding and commitment that makes me admire Angelina so much. She and these brave women are role models for a better world. Each is an agent of change, doing her piece to end an unbearable situation. Because, after all, this is a crime against humanity that only humanity can fix.
Journalist Mariane Pearl is the managing editor of Chime for Change and the author of A Mighty Heart: The Brave Life and Death of My Husband, Danny Pearl.